BUYING THE RIGHT DRYER MACHINE PRICE IN PAKISTAN
Drying your laundry can be a mess if you do not have a dryer machine or a built-in dryer in your automatic laundry machine. In Pakistan, drying clothes can be a hectic task in the winter season. A dryer helps your clothes dry faster without fading the color of your clothes. It is an important item in your home appliances. Leyjao takes care of your needs and offers you the cheapest dryer machine price in Pakistan. Exclusive deals and discounts await you, so let us give you the most useful products with maximum productivity.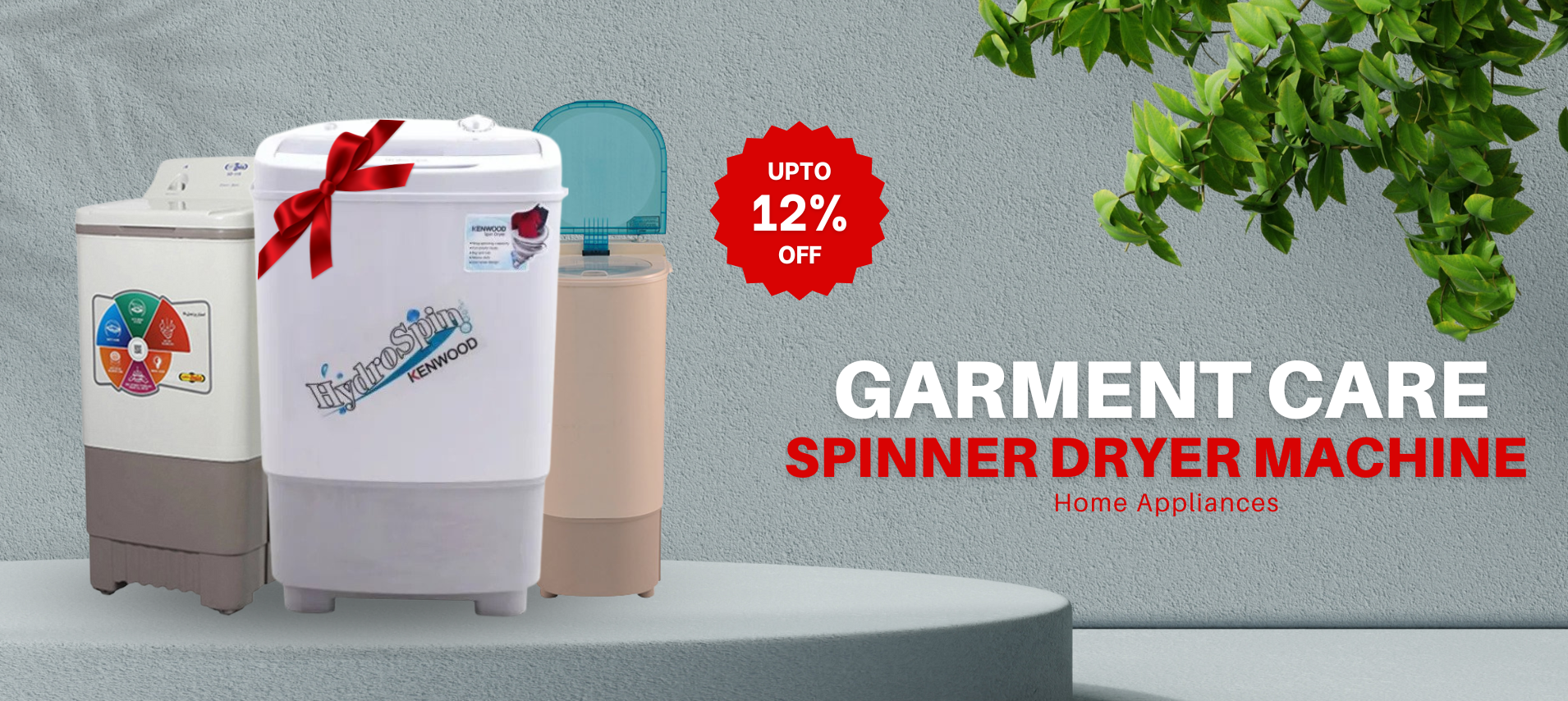 GET FREE SHIPPING WITH EXCLUSIVE DRYER MACHINE PRICES IN PAKISTAN
What will be better than getting free shipping of appliances at your doorstep? Now you just need to order a dryer machine and it will delivered to you without any extra or hidden charges. Thanks to the convenience of leyjao you can buy things for your home without spending the carrier charges. 
WHY DRYER MACHINE IS AN ESSENTIAL ITEM IN SMALL HOUSEHOLDS?
For small households that cannot afford an automatic washing machine, a dryer machine is their biggest time saver. When there is no sunlight in the peak winter season, clothes do not dry after being hung throughout the day. 
This creates a standard need for clothes dryer machines for every household. Because you cannot leave the clothes being hung throughout the day. There are usually two different types of dryers available in Pakistan, Spin dryers and heat dryers. Super Asia is a renowned brand and trusted brand for home appliances across Pakistan.
Super Asia has a hot air dryer machine for clothes which adds efficiency to your laundry routine. It is a local brand in home appliances and has one of the most durable and maintenance-free appliances. Leyjao offers unique and discounted super asia dryer machine prices in pakistan. It is one of the cheapest laundry dryer brands in Pakistan. 
LEYJAO HAS AN EXCLUSIVE RANGE OF PRICE
People normally trust brands when they are choosing appliances for their homes. Whether it is an electric instant hot water heater or a garment steamer, you prefer brands like Haier, Dawlance, and Kenwood. Haier home appliances have high durability and low price rates. You can get the cheapest haier clothes dryer machine price in pakistan from leyjao with free shipping. 
Haier dryer machines are designed with one of the latest technologies like voice commands and an app control system. However, conventional dryers are relatively cheaper than automatic dryers. You can get discounted haier dryer machine prices in pakistan from Leyjao with easy monthly installments.
Leyjao believes in giving quality products to customers. A haier dryer machine has different features such as energy efficiency and time settings. However, it is the most common feature among branded dryer machines. Kenwood is renowned for making green energy products. The dryer machines from Kenwood help in lowering the climate risks. If you want to discover the best kenwood dryer machine price in pakistan, we have the best range in prices.
BENEFITS OF DRYER MACHINE
Technological advancements have brought changes to home appliances in our daily use. Inventions like a mini sewing machine and an insect repellent machine have brought convenience into our daily lives. Similarly, a dryer has various benefits in our daily lives. 
If you are living in a big city, you cannot hang clothes outside of your home. The latest dryer machines come with advanced features allowing you to maintain set timings according to the type of fabric. There are various models of cloth dryer machines online that can save a lot of your time by drying your clothes accordingly.
Buying a laundry dryer machine might not be feasible for every household. There are small households in Pakistan, that cannot afford the electricity bill of automatic dryer machines. So manual dryer machines are the best options for them. Many brands give discounts on manual laundry dryer machine prices. You can explore the cheapest clothes dryer machine price in pakistan from Leyjao with a wide range of products. 
LEYJAO OFFERS THE MOST ECONOMICAL CLOTHES DRYER MACHINE PRICE
Manual dryer machines are mostly used by small households in Pakistan. Price is a great factor for them. You are always looking for economical cloth dryer machine prices in pakistan. Moreover, leyjao makes it more convenient for them by providing machines on easy monthly installments. You can choose a dryer machine price without worrying about the budget. You can also buy the best vacuum cleaner prices from Leyjao. We also offer the best range of electric heaters in pakistan at a reasonable price. So it is time to bring a change to your home with some of the advanced home appliances from Leyjao, shop now!
Reviews
Write a review
Frequently Asked Questions (FAQs)
What does a dryer machine do?

A dryer machine removes moisture from your clothes, bedding, and blankets and helps them dry faster.
Which type of dryer machine is best?

Tumble dryers are the best and most efficient type of drying machines. You can save time and energy with these dryers.
How dryers are important in our daily lives?

Dryer machines have a crucial role in our lives when it is raining outside or the weather is cold. It helps the clothes to dry faster and is ready to wear in minutes.
What is the key benefit of the dryer machine?

The key benefit of drying machines is that you can easily wash clothes without worrying about the weather conditions and save time during laundry.
Which type of clothes can be dried in dryer machines?

You can dry almost anything in the dryer machine from jeans to blankets. However, the size of the dryer matters when you are drying blankets.